We offer several other products and services. If you are interested any of the products below, you can fill out our Custom Quote Form or Contact us directly.
Bookmarks
Would you like a family focused gift for all who attend an event? This inexpensive idea is a great personalized gift for all.
Do you need a fundraiser piece to sell? Create a custom bookmarker that appeals to the audience you're selling to.
Looking for a new way to reach your audience? Bookmarks have been used as corporate giveaways and souvenirs for some time now.
By having your brand printed on either front or both sides, bookmarks can capture the attention of readers. They have become advertising tools that can promote your business and services.
The good thing about bookmark printing is that they can have more than one purpose. Bookmarkers can feature calendars, coupons, discounts, and yes, even quotations.
Full-color custom bookmarks come in quantities of 100 to 5,000 and can be any size from 2" x 6" and up.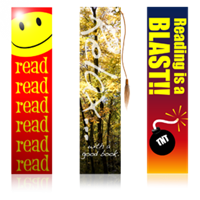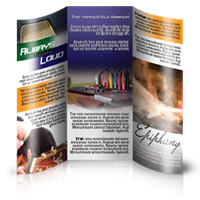 Brochures
Brochures make a great marketing tool, and a professional way to introduce your business.
Many companies utilize brochures to promote products, services and events. They are ideal for direct mail campaigns, for use in handout promotions or for face to face distribution to provide specific information to your audience.
Custom brochures come in a variety of folds and paper stock options in quantities of 50 to 20,000.
Business Cards
Your business card is in many ways the most basic marketing tool that you have. In its simplest form, it conveys the basic information about your company in a format that is easy for your customers to store and use. In this day and age, standing out from the rest is a necessity. That's why you need to print high-quality business cards with the help of a professional online printer like A Good Day to Print.
Despite living in a digital world, a business card can be critical to the development of your business. These small but effective tools are often handed to customers and prospects and can be a highly personalized form of marketing.
Our custom business cards printing services make it easy and affordable to order business cards and other stationery. Available printed one sided or two, flat or folded, square or rounded corners, in a variety of paper stock and ink colors.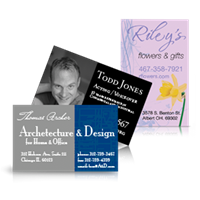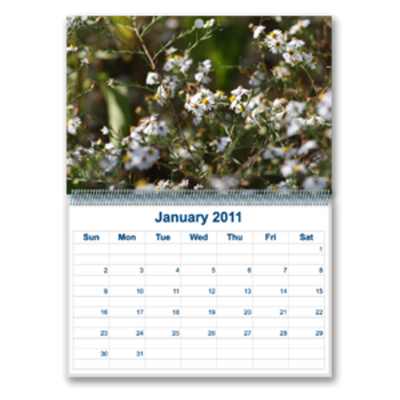 Calendars
Wall calendars make a great promotional gift and are an alternative to a smaller desktop calendar. Like all calendars, they advertise your organization daily. Calendars are a sales tool that reminds your prospects and customers of your products and services. Our calendar printing services make it easy and affordable to order calendars.
NCR Forms
When you need multi-part NCR forms, we can supply them with 2, 3, or 4 parts in a variety of ink colors, with or without numbering. Our form printing service makes it easy and affordable to order NCR forms.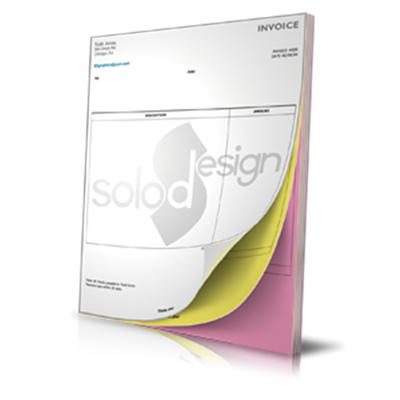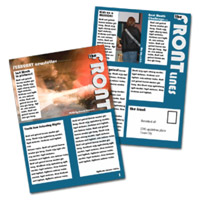 Newsletters
Newsletters are a proven means of communicating both a message as well as a brand. They are a cost effective way to keep your organization's name in front of prospects as well as customers. Use newsletter printing to promote your products and services, highlighting new developments, displaying customer testimonials and educating about the benefits you provide. Our newsletter printing service makes it easy and affordable to order newsletters.
Postcards
Custom postcards are cost-efficient marketing materials used to spread the word to a targeted mailing list. They can be printed full color with your logo, organization name, address, phone, website, etc.
They can be used to announce a new product, promote your business, or advertising an event. Our postcard printing service makes it easy and affordable to order custom postcards.
Postcard sizes available: 4" x 6", 5" x 7", 6" x 9"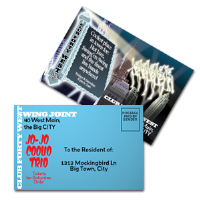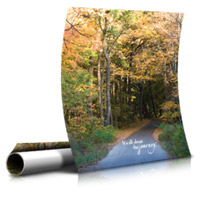 Posters
Custom posters are useful for sales, new product introductions, trade shows, events, gifts, home decorating, and more. Our wide-format, full color digital printers produce crisp graphics, engaging photos, and sharp text. We make it easy and affordable to order posters. Standard features: full-color printed one side, high gloss stock mounted to rigid foam board, up to 24" x 36.
Order some of our other great products today!