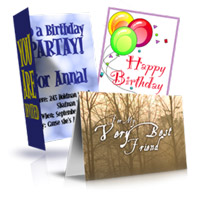 Custom greeting cards personalized with your own photographs and artwork are memorable and unique. Express your creativity in birthday cards, thank you cards, wedding invitations, holiday cards, party invitations, announcements, and more! Friends, co-workers and loved ones will know you care. Our full color custom greeting cards are printed fast, crisp, clean and affordably.
Standard Features:
4.25" X 6", Full-Color Outside Only Ink Colors, No Proof, 100-lb Gloss Cover Stock, No Envelope, Standard Turnaround Time.
Quantities of 25 to 10,000
Custom Greeting Cards Options:
Ink Colors – Full-Color Outside Only, Full-Color Outside and Inside
Proof – None, Soft Proof (PDF), Hard Copy Proof
Paper Stock – 100-lb Gloss Cover, 100-lb Matte Cover
Envelopes – None, A6 Blank Envelopes (4-3/4" x 6-1/2")
Turnaround Time – Standard, Rush
Other uses of personalized Greeting Cards
Custom Greeting Cards and all things digitally printed - printed professionally. It's always A Good Day To Print!